Here's an overview of different types of inverters
In today's fast-paced world, where the lives of people are dependent on electronic and smart devices, inverters play a considerable role. Inverters are a power backup solution that lets users power their electrical appliances with ease, even during outages. If you are wondering what an inverter is or its type, here is a detailed guide for you to explore.
What is an Inverter?
The inverter, also known as a power inverter or a frequency inverter, is an electronic device that is specially designed to convert the direct current (DC) into alternating current (AC) at any frequency. The role of an inverter is not only to transform the current but is also backed with numerous features like high efficiency, low power costs and versatile applications. These are the perfect backup options that help power electrical appliances during power cuts. You can find numerous inverters available in the market that you can get your hands on according to your needs. Below is the list of the best inverter types that you can explore.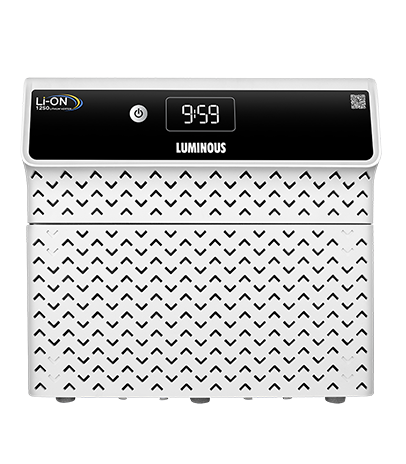 Types of Inverters
Before buying an inverter for your home or office, make sure you calculate the power supply requirement during the power cut. Doing this will help ensure that you can easily use your electrical appliances during power cuts as well, without any interruption. Based on output characteristics, inverters are basically classified into three categories that are listed below.
Square wave inverters are the simplest form of inverter that transforms DC to AC. It is a cheaper inverter type compared to other inverters and is simple to construct. The output voltage waveform in the case of these inverters is a square wave. So, while operating electrical devices like tube lights and fans, it emits a buzzing noise. The voltage output produced with a square wave inverter range from 230 volts to 290 volts.
Due to these reasons, square wave inverters are less used than other types of inverters. Therefore, the cost of this inverter is quite low, but its operation is also limited.
As the name suggests, this type of inverter offers the purest form of electricity for sensitive electrical appliances. The current that passes through these inverters is safe to run various appliances like:
Computers
Camera
Battery chargers
Laptops
Cell phone chargers
Small water pump motors and much more.
In comparison to square waves, pure sine wave inverters help users save on their electricity bills. These types of inverters are a little more expensive but are widely used for residential and industrial purposes as they offer perfect output and guarantee.
Modified Sine wave inverters
The construction of this type of power inverter is quite complex compared to other inverters. The output of modified sine wave inverters is the combination of both square inverters and pure sine wave inverters. These inverters are budget-friendly and can power most electrical appliances, but they are not like pure sine wave inverters.
Now that you know the difference between various types of inverters available in the market, when are you planning to buy one? Luminous is India's 1st inverter company that offers wide power backup solutions for your home. They offer smart inverters with amazing features like wi-fi connectivity, fast charging and much more. Moreover, the prices set by Luminous are quite affordable so that people can keep their electrical appliances and data safe even during power cuts. Also, they offer a decent warranty on their power backup solution to help users stay stress-free about maintenance and damage. To know more, head to Luminous India's website and get the best inverter according to your budget and power supply requirements.