As a part of the family of standards set for wireless communication, Wireless Application Protocol (WAP) is the standard specifically designed for mobile phones to provide mobile phone users with the wireless network. Its' production was a revolutionary step in terms of providing data services on mobile phones in the USA. It was actually a set of protocols which was called a WAP Protocol suite consisting of:
Wireless Application Environment (WAE), functioning in the application layer along with WML
Wireless Session Protocol (WSP), functioning in the Session Layer to provide fast connection
Wireless Transaction Protocol (WTP), functioning in Transaction Layer and running above User Data Protocol (UDP) for transaction support
Wireless Transport Layer Security (WTLS), functioning in the Security Layer and handles the issues such as authentication and security of privacy and data
Wireless Data Protocol, functioning in the Transport Layer with the sole function to provide data format. It works more like an adaption layer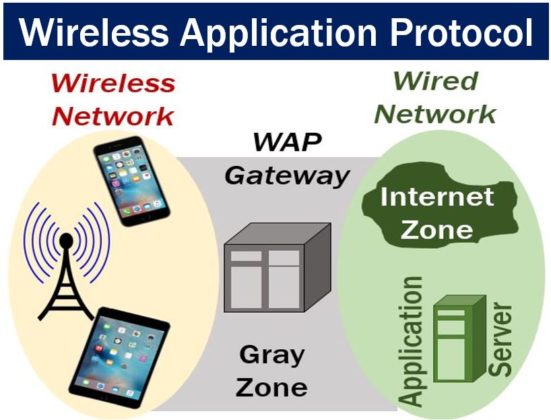 Also, read…
Developed to run on mobile phones of the 2000s, WAP is compatible with (Global System for Mobiles) GSM and Code division multiple access (CDMA). Unlike most modern technology today that uses HyperText Markup Language (HTML), it is designed to run on its' own Wireless Markup Language (WML) which was technically called XML 1.0 application by the WAP Forum.
Wireless Application Protocol (WAP) forum was established by the big tech giants of that time namely Ericson, Motorola, Unwired Planet and Nokia. This forum established standardized wireless technology protocols for mobile devices concerned with the transmission and reception of data. What WAP actually did was; it transformed web pages to be more compatible the mobile browsers. Instead of seeing web pages exactly as you would see on a computer browser, it showed plain text with black and white images as earlier mobile devices were not as advanced as today.
After the release of the specification, the forum merged with other forums and opened memberships for the outside forces which resulted in the expansion and the giant forum which was now called Open Mobile Alliance (OMA).
Instead of SSL/TSL three-way handshake, WAP works on a totally different model where the requested website by a mobile browser is sent to a WAP gateway in codes using the protocols where it is decoded into HyperText Transfer Protocol and then the request is sent over to a server who finishes the process by redirecting the mobile browser to the requested website.
---
Download What is Wireless Application Protocol in pdf – Click here
---