CCNA Syllabus Exam Fees Duration
CCNA R & S is short for Cisco Certified Network Associate Routing and Switching. It is the popular certification among all the network engineers. The CCNA was developed by the Cisco to test the knowledge of the Candidate of networking at the Entry level. It is a certification program that is valid for all type of engineers like entry-level network engineers, Network support engineers, Network Administrators, and Network Specialists. To know more about the "CCNA Syllabus Exam Fees Duration" keep reading this article till the end.
The Cisco Certified Network Associate (Routing and Switching) is recognized by IT employers when considering a fresher's profile for a vacancy or for an increment in salary and the promotion for the experienced employees.
The CCNA certificate covers a broad range of networking concepts. It helps candidates to prepare for the latest network technologies they are likely to work on.
Note: Cisco Certification is valid only for 3 years. Once the certification expired of the certificate holder has to take CCNA certification again.
Why to acquire CCNA Certification
Cisco like Microsoft and other vendors that provide certification has created the certification process to give administrators a set of skills and to equip prospective employers with a way to measure those skills or match certain criteria.
The CCNA program was created to provide a solid introduction not only to the Cisco internetwork operating system and Cisco hardware but also to internetworking in general, making it helpful to you in areas that are not exclusively cisco's.
What skills are required for a CCNA R&S
The ICND1 exam (100-105) tests a candidate for the knowledge and skills required. These are:
They able to install, operate and troubleshoot a small branch office network.
Candidates have the knowledge of the operation of IP data networks,
They also have the knowledge of LAN Switching technologies, IPv4 and IPv6, Ip Routing Technologies, Ip services, network device security, and basic troubleshooting.
The ICND1 exam includes questions on LAN switching technologies, Ip routing technologies, security, troubleshooting, and Wide Area Network Technologies. One can look for some of the free IT exams questions, to prepare for the said exam.
It provides the ability to the candidate to create a point to point network
It also provides the ability to meet user requirements by determining and analyzing the network topology.
This Certification provides the professional's ability to configure, operate, troubleshoot and understand small and medium-level switched and routed network. It also includes the verification and implementation of connections via remote sites using WAN Technologies.
Types of Cisco Certified Network Associate (CCNA) Exam.
To secure CCNA. Basically, there are two approaches. These are:
ICND1 Exam and ICND2
CCNA Exam (Combined)
---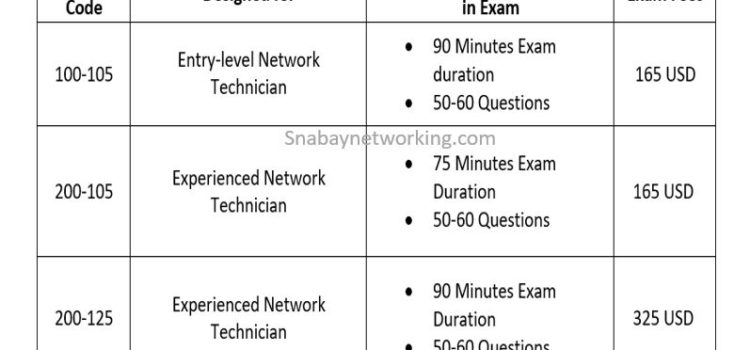 ---
What Does the Syllabus of CCNA consist of:
CCNA Consists of ICND1 and ICND2. The Syllabus of CCNA is the Combined syllabus of ICND1 and ICND2 :
Syllabus of ICND1:
Internetworking
Internetworking Basics
The OSI Reference Model
Ethernet Networking and Data Encapsulation
Collision Domain
Broadcast Domain
CSMA/CD
Ethernet Cabling
Straight through Cable
Crossover Cable
Rolled over Cable
Fiber optics
Data Encapsulation
The Core layer
The Distribution Layer
The Access Layer
Introduction to TCP/IP
TCP/IP and the DOD Model
IP Addressing
IPv4 Address Types
Easy Subnetting
How to create subnets
Subnet Mask
Classless Inter-Domain Routing
IP subnet-zero
Subnetting of Class A, B, and C.
VLSM, Summarization, and Troubleshooting TCP/IP
Variable Length Subnet Mask (VLSMs)
Summarization
Troubleshooting IP Addressing
Cisco Internetworking Operating System (IOS)
The IOS User Interface
Command Line Interface (CLI)
Administrative Configurations
Router and Switch Interface
Managing a Cisco Internetwork
The internal Components of Cisco Router and switch
Backing up and restoring the Cisco Configuration
Configuring DHCP
Syslog
Using Telnet
Resolving Hostnames
Checking network Connectivity and Troubleshooting
Managing Cisco Devices
Managing the Configuration register
Backing up and Restoring the Cisco IOS
Ip Routing
Routing Basics
IP Routing Process
Configuring IP routing
Static and Default Routing
Dynamic Routing
Routing Information Protocol
Layer2 Switching
Switching Services
Configuring Catalyst switches
VLAN and Inter-VLAN Routing
VLAN Basics
Identifying VLANs
Routing between VLANs
Configuring VLANs
Security
Introduction to Access Lists
Standard Access Lists
Extended Access Lists
Network Address Translation
Types Network Address Translation
How NAT works
Testing and troubleshooting NATs
Internet Protocol Version 6
Benefits and Uses of IPv6
Working of IPv6 in Internetworking
IPv6 Routing Protocols
Configuration of IPv6
Syllabus of ICND2
Enhanced Switched Technologies
Vlans review
VTP and its Configurations
Spanning Tree Protocols (STP)
Types of Spanning Tree protocols
Ether-Channel
Network Device Management and Security
Mitigating Threats at the Access Layer
Simple Network Management Protocol
HSRP and FHRPs
Enhanced IGRP
EIGRP Features and Operations
Configuration EIGRP
Verifying and Troubleshooting Eigrp
Open Shortest Path First (OSPF)
OSPF Basics
Configuring OSPF
OSPF and Loopback Interface
Verifying OSPF Configuration
Multi-Area OSPF
OSPF Scalability
Categories of Multi-Area Components
Basic Multi-area Configuration
OSPFv3
Troubleshooting IP, IPv6, and Vlans
Troubleshooting IP Network Connectivity
Troubleshooting IPv6 Extended Access lists
Wide Area Network
Cabling the serial wide area network
High-Level Data Link Control Protocol (HDLC)
Point to Point Protocol
Virtual Private Network Protocol
GRE Tunnels
Single-Homed EBGP
Evolution of Intelligent Networks
Switch Stacking
Cloud Computing and its Effect on the Enterprise network
Application programming interface
Cisco APIC- EM
Cisco Intelligent WAN
Quality of Service
Also read…
---
Download 100-105 ICND1- V3 click Here
---