What contained in the trailer of a data-link frame?
The error detection is contained in the trailer of a data-link frame. Let us study the data link layer and its standard. Framing is one of the services offered by the data link layer. Let us have a clear understanding of framing and its errors. suppose let it contains two nodes.
The nodes can be of the router, switch, or device. Each node can have an adapter connected to it. The adapter is used to send the data that it receives from the data link layer. It sends the data in the form of signals, these signals are pass in the form of a medium or through a cable to the receiver device. Normally, the application data set to zeros and the ones and pass to the transport layer. The transport layer gets some set of the zeroes and ones and passes them to the network layer.
Normally, the data link layer contains error detection. When the data transmitted through the network, we do not know, what happens to the data and has left the node, the data is getting transmitted so that errors are caused because of this transmission. so we called it the transmission errors. For reliable transmission, between the sender and the receiver, the errors must get detected and corrected. These error detection can be implemented at the data link layer or a transport layer of the OSI Model.
Also Read: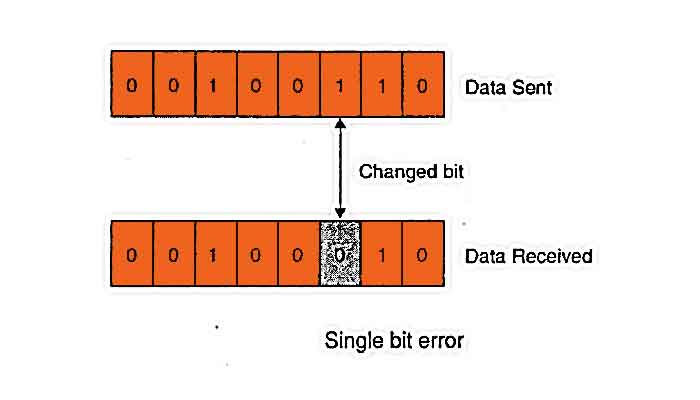 There are two types of errors called Burst error and bit error. In the Bit error, only one bit is get changed. so we call it the single-bit error. Below is the figure, which represents a single bit error. when the sender sends to the receiver, it changes a single bit to the receiver side data. But in the data burst, two or more bits can get changed.